Category Archives:
Corporate Events
Following on from the success of photographing a large group from South America during their incentive trip to London last year, this year we were lucky enough to cover the London leg of a group from Brazil. It happened to coincide with a spell of good weather at the start of June – perfect for plenty of shots of happy people in the British sun!
From a photography point of view, it was clearly important to take plenty of photographs of the guests in the context of London… cue lots of shots in front of iconic British symbols – London buses, landmarks, and anything Royal! With the best will in the world, groups like this can be slightly difficult to organise, so we've learnt that it helps to be proactive and grab opportunities for posed shots when they arise, as you never quite know when the next chance will come along…
This trip was a real pleasure to cover – friendly, laid-back people and some fantastic events scheduled for the week, including dinners at Madame Tussauds, the top of the Gherkin, and the Tower of London. As usual, there was a tight turn-around time on the production of the shots as the clients were keen to take discs back to Brazil with them. We also provided a web gallery for all the guests to be able to access their shots after the event.
We're always keen to talk to events organisers and destination management companies to discuss what we can do to help cover the photography side of things, so please do get in touch if there's anything you think we might be able to help with.
This was now our third year photographing the Betview Awards for Betview Magazine, part of Sky Business. The evening recognises success amongst book-makers and racecourses, and is always a pretty dazzling affair. This year was no exception, with the festivities being held at the Banqueting House in Whitehall. Sky Sports presenters Will Greenwood and Natalie Pinkham compered the evening, complete with banter throughout and entertaining tales from the rugby pitch.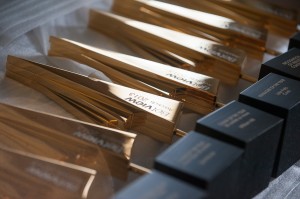 It's always a pleasure photographing awards ceremonies. From a photography point of view it's a bit of gift as spirits are high and it's not hard to find plenty of happy subjects to photograph. It can be technically quite challenging as it's important to get the right balance between ambient light and flash.
When we cover awards ceremonies, we'll always try to provide the client with a good mix of shots that can be used to publicise the event as well as help record the atmosphere of the evening. As part of our check list, we'll get a good coverage of people enjoying themselves (both fly-on-the-wall style and posed groups), a number of details shots to show the effort and time that has gone into creating the event; we'll also aim to get some cracking room shots and table shots, plus of course we'll use our experience to get the best possible shots of the awards winners (this is usually the most challenging part as time is usually limited, there's often little space on stage to arrange people, and the spot lighting can be quite powerful – hence the need for carefully judged fill-flash). Drop us a line if you've got an awards ceremony coming up however big or small – we're always happy to have a chat about how we can help and give you a quick quote.
As you'll know if you've been anywhere near London in the past month, listings magazine Time Out is now free. EPL Event Photography was asked to cover the party thrown by Time Out for its London staff to mark the occasion. The location was at the new Central St Martins building at King's Cross, a really impressive new London venue.
Elinchrom Quadra lights
we were able to set up a mini-studio on site, and take the 20 portraits on our brief within the space of half an hour. A busy schedule but a good night's work!